By improving the area of the cultivable land under assured irrigation, which in turn enabling farmers to cultivate economically viable crops based on the season, and increasing productivity and survival percentage of existing and recently planted crops and orchards. These initiatives are strengthened by exposure visits for new adoptees and imparting technical knowledge by experts from the agriculture domain which helps in augmenting income levels of farmers who are otherwise largely dependent on growing rainfed crops.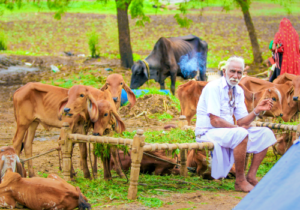 Off-farm activities are things like rearing cows, goats, fish, and chickens that can provide the rural population with descent revenue other than the core agricultural revenue. The Dairy farming help people make revenue all year round by rearing cows and buffalo for producing milk as a good way to make a better living. It gives the community a steady income and a good source of nutrition as well. We also help women's self-help groups to become better entrepreneurs. Goat farming is also becoming a way for many rural population to improve their revenue source and for better livelihood. Our goal is to provide the rural population with the knowledge and educate them to make a better living from the Off-farm acitivities like rearing cows, goats, fish, and chickens.
Non-farm activities mean helping young people learn useful skills and find jobs or start their own businesses. This program helps young people who don't have jobs get better skills so they can find jobs that pay more. This helps rural young people make more money and feel proud. Helping new business owners by providing proper education, field trips, and advice on running a successful business is also included in the non-farming project.